Categories
Related Nollywood News
Humor: Yvonne Nelson advises African women who wears Brazilian hair
No doubt, almost every African woman of today proudly carries the hair of a (dead or alive) Brazilian woman on her head. Well, Yvonne Nelson, who is also guilty as charged, recently gave a humorous advice to Ghanaian and Nigerian women who plan to attend the 2014 Brazil World Cup.
---
While Yvonne Nelson was at the Gym earlier today, she posted a picture of her rocking an expensive Brazilian hair along with the following caption:

"Advice from FIFA to Ghanaian/Nigerian ladies who will go to Brazil in 2014 world cup is that they shouldn't wear Brazilian hair to the tournament because is likely they will meet the owners of their hairs. Goodmorning. #PLUSME #nomakeup #gym #mybrazilianhair #mydadisbrazilian" -Yvonne Nelson

According to Yvonne Nelson, her dad is Brazilian and she sort of has a Brazilian lineage, though she does not grow or naturally has a Brazilian hair. That does not make her any different from many other African women who can't step out their house without a fake Brazilian human hair on their head. (We ought to be proud of our natural African hair and skin!)

For those not aware or would like to know where all the Brazilian, Indian, Peruvian human hair Nigerian and Ghanaian women can't live without comes from, here's a breakdown of some of the sources:

Hair are obtained from religious Hindu sacrifices.

Indian/Brazilian hair obtained from two-year old girls to adult women.

Most virgin hair are obtained from little girls yet to hit puberty (that chemicals are yet to touch their hair).


Brazilian/Peruvian hair obtained from dead people.
Though Yvonne Nelson is only speaking about African women and Brazilian hair jokingly, it is actually a pressing issue in the African society of today and needs to be addressed. It is even worse that among all the dozens of Nollywood actresses we have, none of them are proud of their real hair. To the extent that, some Nollywood actress have even gone ahead to make it their business to use their fame to sell human hair that are no doubt diabolically obtained.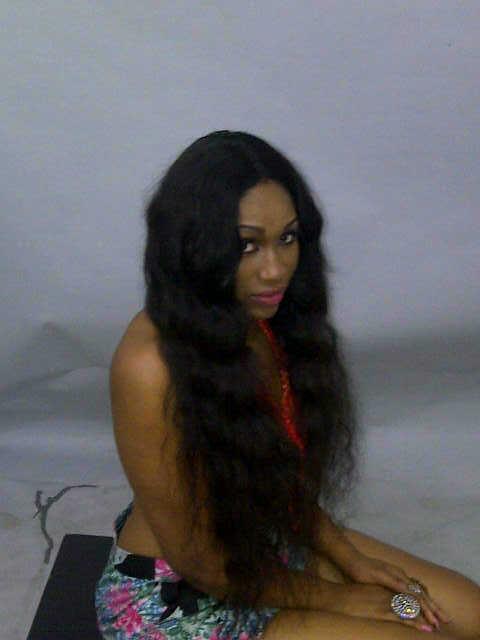 Stella Damasus and Ebube Nwagbo are one of the few Nollywood actresses that have made it their business to use their fame to sell fake human hair to the public.
This is a constructive criticism hoping to spark a change in how Nollywood and Ghollywood actresses (directly or indirectly) promotes artificial hair over natural African hair. Is this the kind of example we want to set for the young African generations? What about our good ol' culturally-rich African hair styles (plating of hair)? Where is our Afrocentricism?

Look, no one is suggesting African women or Nollywood actresses to completely stop wearing hair weaves, but it has become so extreme that it does more harm than good - it needs to be toned down. And where is all the huge money for all these Brazilian/Indian/Peruvian hair going if not to the outside world??
We have some Nollywood actresses claiming to want to help eradicate poverty, but are not investing in their own community. Rather, they are throwing several thousands of Naira and dollars to the foreign manufacturers and marketers of these human hair. This is one of the reasons the Asian economy is growing way faster than that of Africa.
If anyone thinks nothing is wrong with these uncontrollable Brazilian hair trend in Nigeria, Ghana, Africa and every Black community anywhere in the world; then that person has been brainwashed.

Recommended Article:

DailyMail: "Why I'll Never Wear Hair Extensions Again" - Pop star Jamelia (External Link)

= = = = = = =
-Composed by Ibe Duru for Nigeria Movie Network

Post your comment