Description
It is stories like this that make you believe actors are not born but made. Maybe it was luck, maybe it was destiny. In this interview, the talented Abraham Attah talks Beasts of No Nation at the 2015 Venice International Film Festival press conference.
Abraham Attah is a first time Ghanaian actor who made his feature film debut in Beasts of No Nation (2015); for his leading role of a child soldier (Agu). Attah was awarded the Marcello Mastroianni Award at the 72nd Venice Film Festival.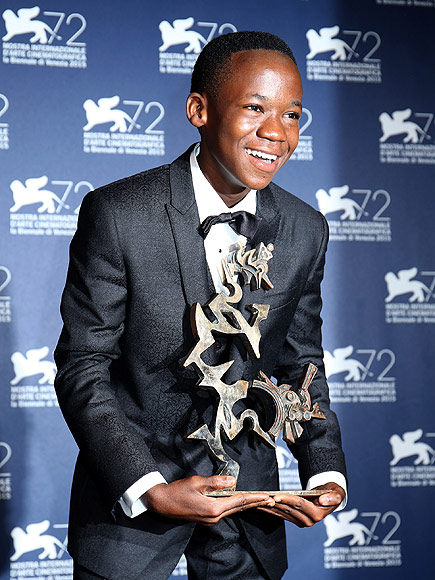 According to reports gathered by NMN, Abraham Attah was playing hooky from school when he was approached by a member of the production staff of the Netflix movie Beasts of No Nation. He was brought in for an audition and won the lead role of Agu, an African boy forced into a team of mercenary fighters. The Accra, Ghana, native had never acted before, but this past weekend, Attah won Marcello Mastroianni's Best Young Actor Award at the Venice Film Festival.
In an interview, here's what the young Ghanaian star actor had to say when he was approached for the movie BEAST OF NO NATION:
"We were playing football on our school field when a white man came and said, "We need some boys for a movie," Attah said. "We went to a TV station in Ghana for an audition, and I was cast."

"I feel sad because I see it to be real," Attah said of him watching the rough cut of the film.

"I was scared because it was my first time shooting a movie," he said. "I was afraid of [Elba] at first because I see him to be someone big, and I'm like an ant in front of him," Attah concludes.
What words do you have for Abraham Attah?
Post your comment